What It's Like
To Spend
Valentine's Day
At The Most Romantic Hotel
In The World
A look inside Aman Venice
This is a love story.
I'm not just talking about the Venice of it all, although there is the Venice of it all. Venice is a city that is bathed in love, steeped in it, fermenting it right there in the bottle until you pop the cork and out love comes, fizzy and fresh. This is a city of honeymooners, a place where they emerge, bleary-eyed in the afternoon to sit curled around a Campari spritz, and each other, in whatever sun-drenched square is closest to their hotel room. This is a city of masks and capes; of cinematic boat rides that skim across the lagoon; of steaming, heaped plates of pasta served with two forks. It is a city where every narrow street is an opportunity to get lost, hands gripped tight to the person you love.
So yes, this is a love story. And no more so on Valentine's Day.
It was Valentine's Day the first time I went to Venice. I was on my first major solo trip abroad, a holiday that took me through London, Paris and then onto Venice, where I walked out of the train station on 13 February, searching for my tiny hotel overlooking the water near San Marco square, only to realise my terrible, grievous mistake. It's like that thing where you start looking for yellow cars and suddenly you see yellow cars everywhere. All I saw were lovers, staring dreamy-eyed at each other in gondolas floating down a canal.
This was a love story, but not mine. I was 20 and single and had never felt more alone. I hadn't yet learned the pleasure of my own company, nor the skill of making friends over martinis on bar stools. I spent the next three days visiting as many museums as I could, terrified to walk into a restaurant and ask for a table for one.
I avoided Venice for years afterwards, so tainted was the city in my memory as somewhere with no space for a single girl like me. But then I went back in the summer last year when the whole city shimmered with humidity. I fought my way through the crowds loitering on the Rialto bridge, I drank prosecco at a tiny bar overlooking the grand canal that seemed to have escaped the tourist track by virtue of it being hidden behind an oversized arch, I swam in a pool suspended over the lagoon, I ate so much fritto misto that I felt my arteries sizzle. It was the best of times, it was the best of times. Maybe this was a love story after all.
The week of Valentine's Day 2020 came around, almost a decade after I first went to Venice on my own. The flights from London, where I currently live, were affordable in a way that seemed like a clerical error. I booked them before the airline realised their mistake and packed a bag to go back to the most romantic city in the world.
Nothing had changed: the lovers were still everywhere you looked, sharing their plates of grilled branzino and pausing on tiny bridges to take each other's hands. The lovers were still there, and this was their love story. But it was also mine, too. The story of that sliding doors moment when I almost missed my meet-cute with Venice, not realising that I had been in love all along.
On my last night in Venice I went to the Aman, the most romantic hotel in the city, for dinner. To get there by foot you have to wind your way through twisted streets until you emerge in front of an enormous wrought iron gate. You ring the bell and wait as it swings open into a lush courtyard.
That night, Venice was lathered in mist, a fog that crept through the alleys and wound its way across the canals. Aman Venice is housed in one of the city's last great palazzos, a five-story building that is still owned by the original aristocratic family who first purchased it back in the 18th century. Everywhere is the union of modernity with tradition. In the common areas the original details of the palazzo, such as its soaring ceilings and intricately carved cornices remain, but the rooms are outfitted with squishy, minimalist sofas and chic mirrors. Every fireplace is filled with a cluster of candles, every table adorned with a sighing orchid. In one of the hotel's grandest suites you can lie in your bed, tip your head back, and look at an original Tiepolo fresco brushed upon the ceiling. In another, a curved window gives the impression that you are floating right along the Grand Canal.
Aman Venice is a love story. Legend has it that Aman founder Adrian Zecha approached the original owners of the palazzo himself, asking if they would consider leasing the property to Aman to become a hotel. A short renovation later and this historic building is now home to 24 rooms, each of them as beautiful as the last. (The original owners, a Count and Countess, still live on the fifth floor in apartments next to those occupied by the general manager. "My neighbour is a very nice man," the general manager tells me over cocktails.) This is the love story of a hotelier and a building, of a city and the world. No wonder, then, that people will travel from the four corners of the earth to stay there. No wonder, then, that George and Amal Clooney were married there in 2014.
I spent my last night in Venice dining in Arva, Aman Venice's intimate restaurant. There were tiny, crisp soft shell crabs called moeche, dipped in sorrel mayonnaise and chased with a clear broth. A springy focaccia, studded with ruby red winter tomatoes, was a highlight, as were pieces of cuttlefish spread sandwiched between two crispy wedges of polenta. Everything was fresh and local: desert was gelato laced with honey from the bees that live in Murano, where the glass is made. Prosecco was drunk.
It was late in the evening when I left Aman, sweet and sated, for the walk back to my accomodation. The Venetian mist had come out in earnest by then, turning everything to smoke. The lights above the canals shimmered woozily, as if they had been smeared in vaseline. The streets were empty. I could hear my footsteps as they carried me to bed. I could hear the distant rumble of the boats out in the lagoon.
The lovers were there, still – it was Valentine's Day week, after all. But in the fog I couldn't see them anymore. So it was just me, and all of Venice, and me, alone and together in the most romantic city in the world. This is a love story. My one.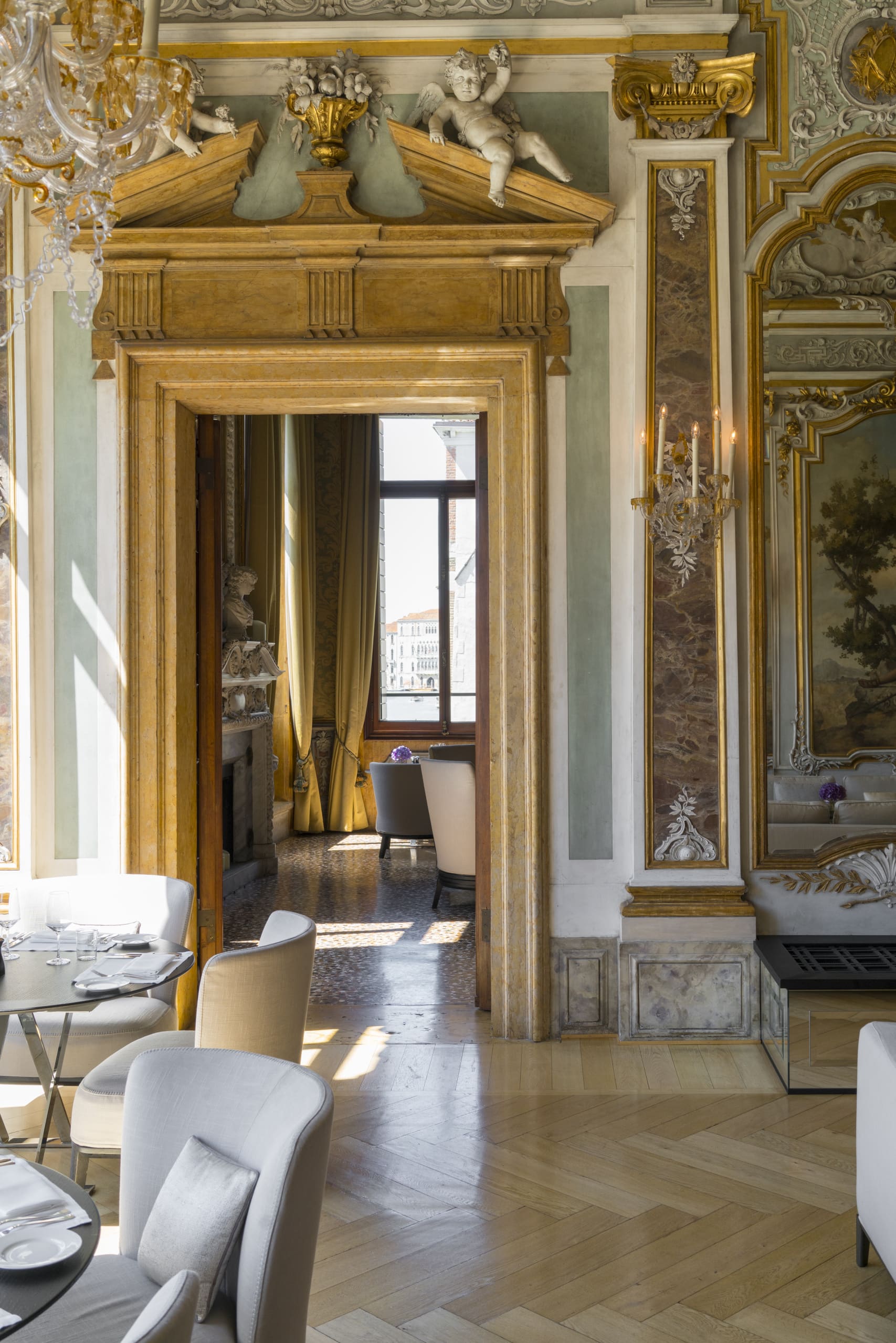 Photography Courtesy of Aman Venice
Words Hannah-Rose Yee