Nestled within the Sydney neighbourhood of Bellevue Hill, Romi Weinberg's home is a hidden haven for the stylist and her two daughters.
If you were you to stumble upon Romi Weinberg's home, it could take you a moment to get your bearings. "Everybody that comes into my house says they feel like they are on holiday," Weinberg happily affirms. The Bellevue Hill property is located at the end of a long driveway, not visible from the street, which only serves to amplify the effect. Once inside, the modern Mediterranean interiors cement the sense of escapism, making anyone who enters feel like they're suddenly living on island time.
For three-and-a-half years, the stylist and her daughters, Bo, almost 12, and Tatum, seven, have called the five-bedroom sanctuary home. Weinberg found a space she could put her own stamp on without the need for a knockdown, and she has transformed what was originally a stately, Tuscan-meets-French style house into her breezy abode.
To reflect her fresh, casual sense of style, one of Weinberg's first steps was to simplify the finishes, replacing a mix of timber, tiles and carpet with white timber floorboards that flow throughout almost every room in the house. The only exception can be found in the bathrooms, where terracotta tiles have been used to complement the textured tadelakt surfaces – a Moroccan plaster finish that Weinberg applied to walls, benchtops, and even her freestanding bathtub. "I absolutely loved it and I kind of went hell for leather with it," she admits, pleased that the unique result speaks for itself.  "[The tadelakt] is something that everyone always mentions, and is very specific to my house."
Upstairs in her daughters' rooms, Weinberg's commitment to consistency is key to maintaining balance, especially as competing aesthetics start to come into play.  "Tatum is very girly, and initially her room was very white, but she has absolutely insisted that she wants colour," says Weinberg, who is slowly starting to appease the request. "I think that fluidity is really important because even if I add colour, [the room] still has the same handwriting." For whimsical finishing touches for the girls' rooms, from twinkling fairy lights to charming dolls, Weinberg heads straight to mamapapa in Avalon. "It's the most magnificent children's decor and clothing store," she says.
With free rein over the rest of the house, Weinberg eschews bolds tones for raw textures that complement her predominantly white and cream palette. She also favours a mix of old and new furnishings, such as the contemporary linen couch and vintage patchwork rug that sit together in the front living space – the latter sourced from South Africa, where Weinberg originally hails from.
It's this melting pot of influences that stop the home's holiday spirit feeling like it's tied to any one place. "I don't really want it to look themed," says Weinberg on her interiors vision. "I pick elements from all over that I love, and hopefully that creates something that is individual and unique to me."
One-of-a-kind design features enhance the personal approach. Weinberg found the rustic ladder and chains that hang above her kitchen bench in Sydney vintage store Lunatiques, turning them into a feature that allows her enamel utensils to be hung on full display. "I want to create spaces that actually use the things that I have as part of the decor," she explains, noting that she's also incorporated her collection of French crockery into the kitchen's aesthetic by way of open shelving. "It's such a waste to have it sitting hidden in a cupboard."
An avid cook, Weinberg choose to extend the kitchen, which was considerably smaller when she bought the house, to create a generous space that flows into her open dining area. The connected entertainment zone continues all the way outside thanks to the pergola Weinberg installed after moving in, and the sense of openness is amplified by the glass sliding doors that she fortunately inherited with the house. "I'm always having people over, so it was really important to me to be able to have the doors open, and [create] that inside-outside feeling." she shares.
"There's so many things that I've put so much thought and care into," reflects Weinberg, who finds it impossible to pinpoint a favourite from the myriad of décor pieces she's gathered so far. But when asked if she treasures a particular corner of her home, her answer, "My room," is delivered without hesitation. "I love being in there," she says, describing her bedroom's balcony ("which I just adore"), the Juliet windows that open up to the bougainvillea and greenery of her garden, and the beautiful energy she feels when she's spending time in there. "My little oasis," she concludes – the heart of her little slice of paradise.
See more in Issue 05 of Badlands Journal.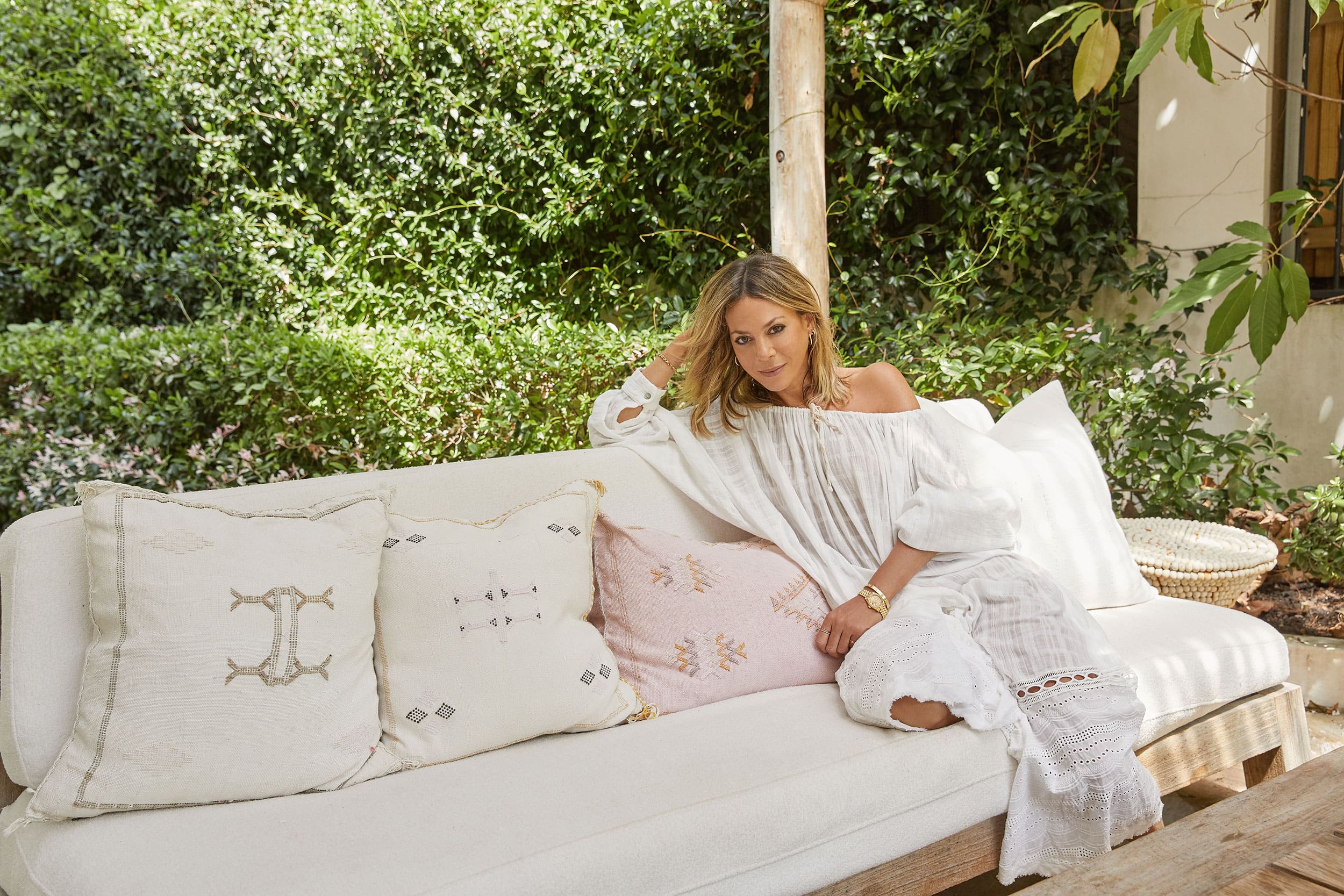 Photography Ana Suntay-Tanedo
Hair & Makeup Kristin Brett
Words Natalie Mell