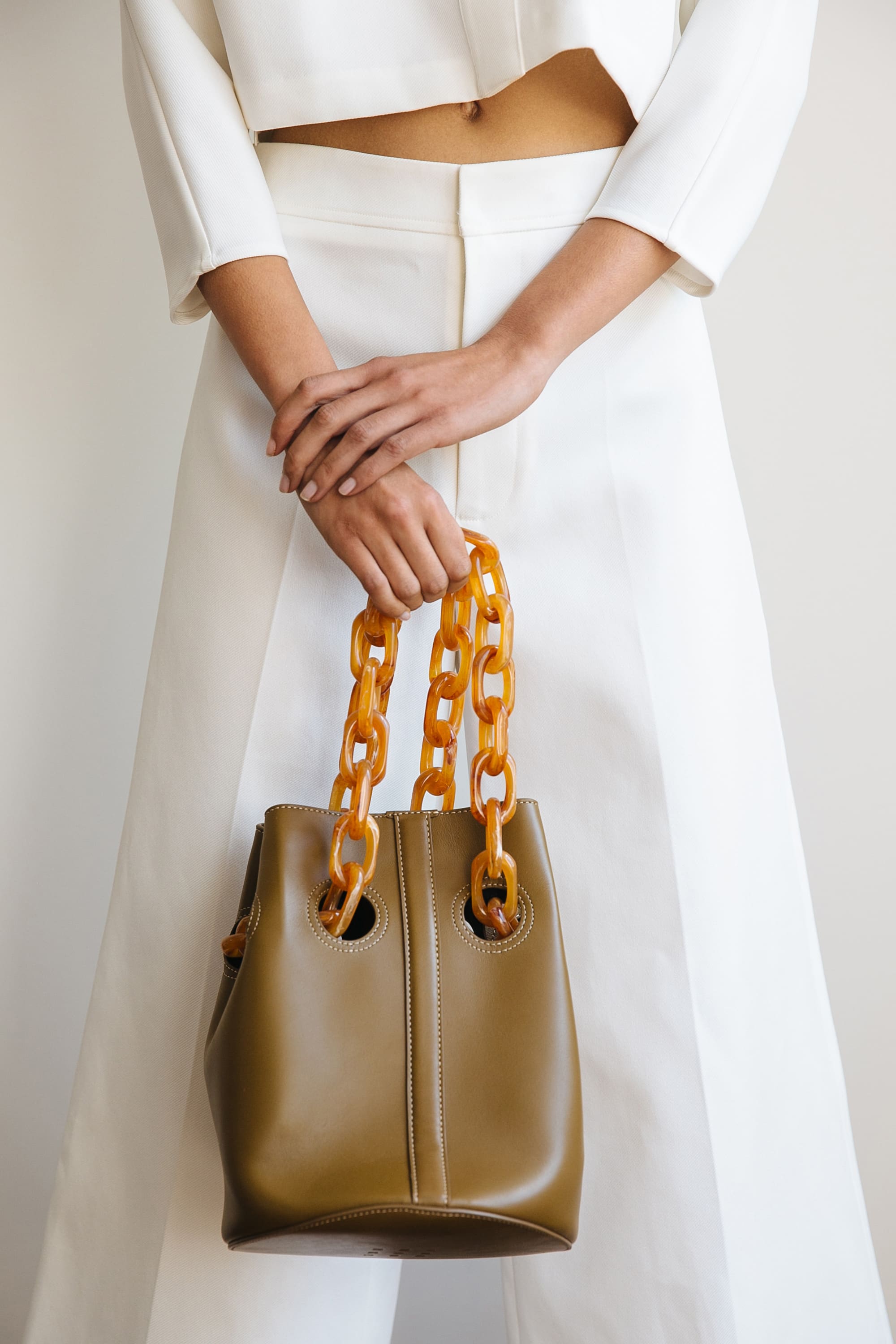 Forget the big brands, the coolest new accessory labels are under-the-radar, insider secrets. Hannah-Rose Yee meets the designers making the next wave of must-have bags
Wannasiri Kongman loves handbags.
She buys them, pores over them, thinks about them constantly. She would spot them on the street, first in her native Thailand and, later, in her adopted hometown of New York in the early 2000s, analysing them as their owners wandered past. New York is a good city for people-watching, but it's an even better one for spying bags. On every street corner, Kongman might have seen a new one: a painfully cool Balenciaga City, a Stephen Sprouse for Louis Vuitton printed hold-all, a long, swollen Chloe Paddington.
This was 2004, after all. Those were the It bags we all craved. "I met [her] in New York," that year, Jesse Dorsey, Kongman's husband and business partner recalls. Back then, he was a musician and she was studying fashion and working part time as a waitress. "She was absolutely obsessed with handbags," he says. "As we strolled the streets of lower Manhattan, she would constantly be giving me an analysis, critique and education of handbags. After a while I realised, I too, had now become obsessed."
The next logical step for a pair of enterprising handbag lovers was to start a brand of their own. And thus, BOYY was born; a Thai-based, Italian-produced, globally-focused accessories label, with a huge market in Asia, the US and Scandinavia, particularly Denmark.
BOYY's bags couldn't be more different to the ones Kongman and Dorsey bonded over back in 2004. 15 years is a lifetime in the fashion world, and all the trappings of style back then – chunky hardware, obnoxious branding, huge or tiny Gullivers Travels-esque silhouettes – are no longer relevant. BOYY bags feature very little detailing and a minimal, light design touch. What makes them instantly recognisable is the marriage of masculine and feminine silhouettes, offered in a rainbow of leathers season to season. A BOYY bag is simple, but sophisticated. It will go with everything you own. You never have to think twice when you grab it as you run out the door.
All these things, as well as the fact those colours – a seafoam green, or a cherry red, or a rich, salted-caramely tan – pop on the Instagram grid, have endeared the label to a new generation of women seeking an It handbag to call their own. At a price point slightly below that of the big-name fashion houses, and with styles that feel refreshingly unique, BOYY has made a name for itself retailing directly to an audience that doesn't want to be seen carrying the exact same bag as everyone else as they stroll down Mott Street or pedal through Copenhagen.
BOYY is selling exactly that: a refreshing point of difference. "There's a greater need for self-expression in today's world," Dorsey says. "As much as things are becoming more and more global, there's a human reaction to that, a resistance that translates into individualism."
This was the idea behind Scotria, a new London-based accessories brand by Jen Murray, barely a few seasons old. Murray, who cut her teeth at JW Anderson, had an idea for a set of handbags that could be built, piecemeal, by the customer themselves. You get to choose the colours and leathers, you get to decide how you want the extras to look. The elements each season are the same, but the finishing touches are in your hands.
"I wanted to create something that people could interact with, adapt, customise and truly make their own," she explains. There are just four styles – a chic satchel, a bucket bag, a pouch that's just the right shape, and a chunky, will-never-get-lost keyring – but the possibilities feel as if they're endless. "When people identify with something and see it as their own, there's different engagement with the brand and the product," Murray adds.
In all her designs, you can see the playful touch of JW Anderson, (who himself is known for his cult accessories), from her oversized spiral cord detailing to the off-kilter colour palette. Last season it was millennial pink, blue and orange, this season Murray is favouring a lip-smacking lemon yellow, bright green and that same pink, again. Can you blame her?
"[JW Anderson taught me] to have confidence and the self-belief that you can grow from a small brand into anything you want to be with dedication and perseverance and focus," she says. "Anything is possible!"
Murray has taken that mentality and infused it straight into the DNA of her business. Anything is possible when it comes to a Scotria bag, in some ways, you're as much as the designer as she is. When buying accessories, Murray says "I think people are realising now that there's more to it than just putting money on the table". Sure, you could stroll into the store of a massive international brand and pick out the latest style featured in their glossy advertisements, but where would be the fun in that?
"Money isn't personality," Murray says. "It should come down to what do you want, what do you like and when you find what you like, make it your own and use it." This, she says, is the future of the accessories business, putting the power of choice back into the hands of consumers.
And if you love handbags, like Kongman and Murray and all of us at Badlands Journal do, then that is a truly exciting prospect indeed.
Photography Hannah Roche
Art Direction Badlands Studio
Styling Freddie Fredericks
Hair & Makeup Kristin Brett @ Work
Words Hannah-Rose Yee
Model Nirvana @ Chic
From Issue 04 of Badlands Journal